Adult Martial Arts Classes
Martial Arts Adults Classes
Come and be part of Adelaide's leading Mixed Martial Arts (MMA) Training Academy. Tugra Shan Martial Arts prides itself on offering world-class training in a fully inclusive environment where people from all backgrounds and abilities unite to unleash their inner warrior.
World Class Martial Arts Instructors For The Best Training Experience
Kancho John Alford, owner and founder of Tugra Shan Martial Arts Academy (TSMA), has over 40 years of experience in multiple martial arts and holds 6 Black Belts in different styles! With a team of world-class instructors, you'll benefit from our unrivalled experience and knowledge with professional training and guidance across a range of martial arts disciplines.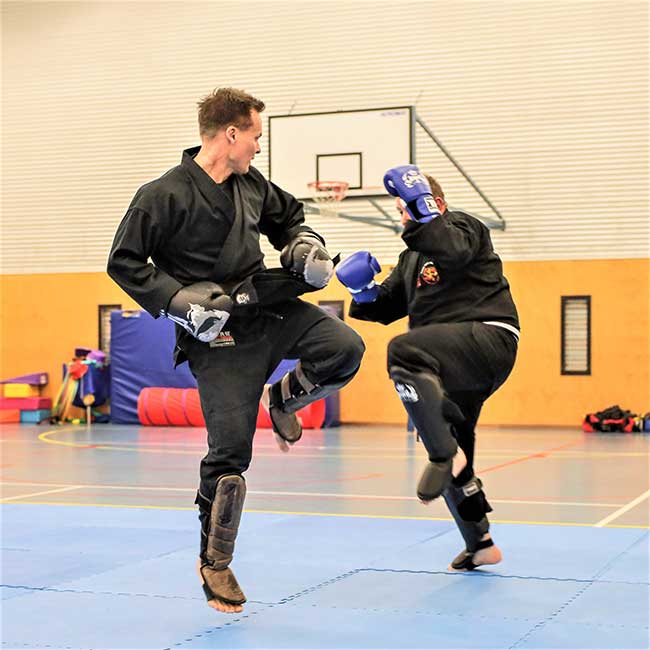 All Martial Arts Levels Welcome
Tugra Shan Martial Arts Academy (TSMAA) welcomes students of all levels, from complete beginners to highly advanced. Whether you aspire to compete at the highest level or simply want to improve your fitness and self-confidence, our club provides the perfect environment to achieve your training goals in a friendly and supportive community.
One Fee, Unlimited Martial Arts Training
TSMA likes to empower students to excel, so our modest monthly fees include unlimited access to all adult classes. Train up to three times a week and embark on a journey of personal growth, discipline, and self-defence mastery. We understand that each student is unique and encourage students to train at their own pace.
Dynamic Adult Martial Arts Classes
Tugra Shan Mixed Martial Arts classes are designed to be dynamic, exhilarating, and enjoyable. You'll learn to master both physical techniques and develop situational awareness, assertiveness and decision-making skills that focus on real-world street scenarios.
Each class includes kickboxing, sparring techniques, karate techniques and katas, self-defence, and Jujitsu. Additionally, we offer a dedicated Brazilian Jiu-Jitsu class on Wednesdays and Thursdays, providing specialised training in this ground-focused grappling art.
Martial Arts – Weapons Classes
Eskrima stick fighting and Japanese swordsmanship classes are integrated into regular classes periodically and are available in private Lessons. Weapons classes are voluntary, but we like to provide a well-rounded and engaging martial arts experience that caters to different interests and allows students to discover and develop their skills across various disciplines.

Adult Martial Arts Classes, Morphett Vale & Reynella
Monday
6.30 – 7.30 pm (Term Time)
Reynella East College Primary gym
Gate 3 Car Park, 63 Malbeck Dr Reynella East
Wednesday
6.00pm – 8.00pm – year round
Includes Brazilian Jiu-Jitsu
Antonio Catholic School gym
Entry via the Rear car Park at 25 Stanley St Morphett Vale
Thursday
6.30 pm – 8pm (Term Time)
Includes Brazilian Jiu-Jitsu
Flaxmill Primary gym
80 Flaxmill Rd Morphett Vale
Adult Mixed Martial Art Classes – What to Expect
Karate
Classes start with a warmup and some stretching before moving into Tugra Shan Karate  techniques. You'll learn numerous kicks, punches, blocks and parries along with dynamic katas.
Kickboxing
Karate is followed by Kickboxing. You'll learn all the basics including kickboxing combinations, controlled partner drills and then move on to freestyle sparring.  Participants can select either low, middle of full contact sparring depending on their experience and goals.
Jujitsu & Self-Defence
Once the kick boxing is complete we then move to the mats for Jujitsu and self-defence. Students will learn various takedowns, throws, joint locks and manipulation, escape moves, submission and finishing techniques.
Brazilian Jiu- Jitsu
Brazilian Jiu-Jitsu is taught in a separate class on Wednesday and Thursday nights. Thursday classes are taught by Professor Marcio Maia, who studied at the world-famous Gracie Ipanema Academy in Brazil. All classes include positioning techniques, closed and open guards, escapes, takedowns, throws and submissions and rolling (sparring).
Martial Arts Weapons Classes (Adults only)
Fighting with weapons is a specialist part of our martial arts classes. Weapons training is voluntary and covers both eskrima stick fighting and Japanese swordsmanship. Weapons classes are available by private tuition and are periodically included in the classes depending on demand.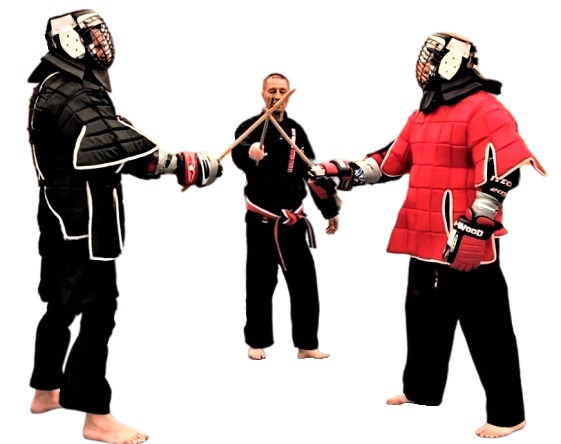 Eskrima Stick Fighting
Eskrima Stick Fighting is a form of armed combat similar to sword fighting which uses traditional 28" (71cm) blunt ended eskrima sticks.  We teach a mixture of mid and close-quarter fighting techniques and classes focus on drills, katas and disarms.  Stick fighting is dynamic and exciting and there are plenty of opportunities to practise armoured sparring throughout the year.
Iaijutsu Sword fighting
Iaijutsu Sword fighting is a combative quick draw sword technique.  We teach footwork and stances, cutting and blocking techniques and sparring using either wooden (bokken) or steel swords (katana).  Katana can be blunt (liato) or sharp (shinken) depending on experience.  Classes focus on katas, kumitachi (partnered techniques) along with safety and sword handling techniques.
Martial Arts Uniforms & Equipment
Getting the right gear for your martial arts journey is quick and easy. We include a stylish black uniform as part of your initial joining fee and sell a range of high-quality equipment, including uniforms, belts, instep protectors, boxing gloves, eskrima sticks, bokken, saya (wooden sword and sheath) and training videos at discounted members-only prices.
To participate in kickboxing sparring sessions, you will need boxing gloves, shin instep protectors and a mouthguard for your safety. These are all for sale at our academy.
Martial Arts Training Tailored To Your Needs
We pride ourselves on helping you achieve your goals, and at TSMA (Tugra Shan Martial Arts), you can train at the level you feel comfortable. Our programs encourage students to build strength and confidence along with physical, mental and psychological fitness.
Gender-Friendly Martial Arts
Tugra Shan Martial Arts pride itself on being an all-inclusive club and creating a welcoming environment for everyone, regardless of age or gender. We go out of our way to ensure all new students feel at ease and welcome people of all different backgrounds and abilities.
Adult Martial Arts – Private Tutoring
We support all our students in achieving their goals and offer highly competitive prices on private martial arts training. You do not need to attend our regular classes to access private tutoring. Many students take advantage of our low-cost private tuition to refine their skills before grading, to progress faster or to help them reach their martial arts goals quicker.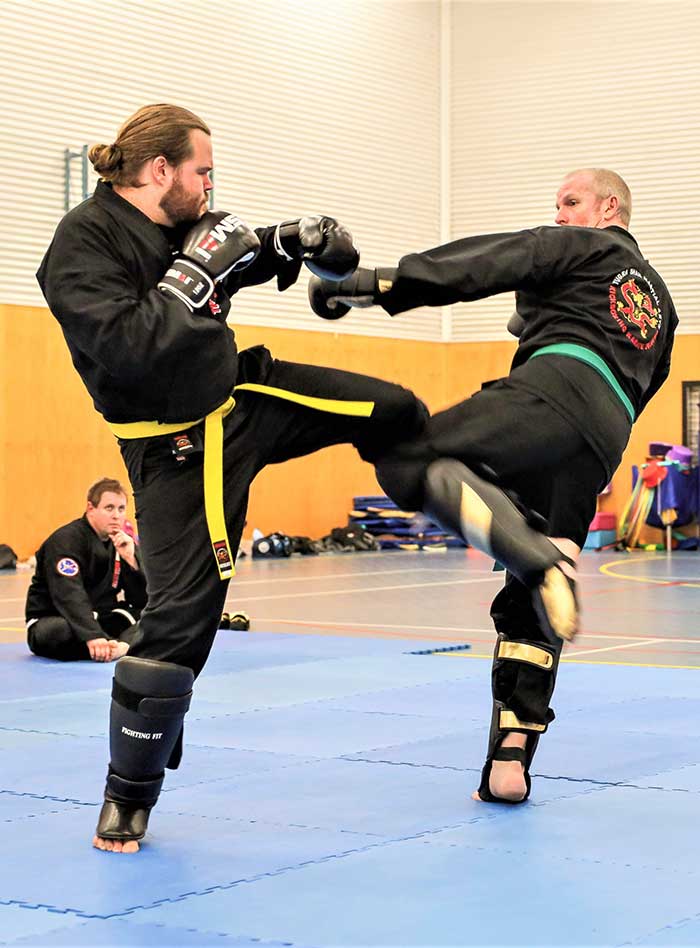 Benefits Of Learning Martial Arts:
Self Defense
Learning martial arts equips students with essential skills and teaches powerful strikes, self-defences, takedowns and submission techniques to protect students in potentially dangerous situations.
Physical fitness
Martial arts training offers a full-body workout, improving strength, flexibility, endurance, and overall fitness levels. It provides an engaging and fun way to stay active and maintain a healthy lifestyle.
Stress Relief
Martial arts practice allows students to channel their energy and constructively release stress. The focus required during training helps to clear the mind, improve mental wellbeing and help students stay in control.
Mental Resilience
Martial arts instil discipline, focus and perseverance and students learn to overcome challenges, fostering a resilient mindset that helps build self-esteem and confidence.
Empowerment and personal growth
Martial arts offer a platform for personal growth, encouraging students to push beyond their limits and discover their full potential. It cultivates a sense of empowerment and independence to help you become the best version of yourself.
Community & Support
TSMA provides a safe, supportive and inclusive community, where students can connect with like-minded individuals and build lasting friendships. We encourage respect and camaraderie and have occassionalclub 'dinners' to help build a supportive and inclusive martial arts academy.
Women's self-defence, kickboxing and Brazilian Jiu-Jitsu.
At Tugra Shan Martial Arts Academy, we welcome women of all ages and fitness levels. We understand the unique challenges women face in today's world and are here to support you to feel strong, confident and safe.
Ready to get started? Join us today. Just click the 'Book Now' button on our website and secure your first Free lesson, or call 0410 859 775.
I don't have any martial arts experience. Will I be able to cope with all the training?
Yes, Tugra Shan Martial Arts Academy has a learning system built for beginners as well as advanced students. We cater for all people and allow you to learn and train at your own pace. Before you know it, you'll be performing martial arts techniques, having loads of fun in our classes and making new friends.
How will I fit in if I'm a beginner?
We have new members joining all the time and a diverse range of students of all abilities, so there will always be someone at your level to train with. During your first few weeks at the club, we'll put you with an experienced, friendly member and go out of our way to help you feel comfortable and at ease. Our academy has a warm and friendly atmosphere, and everyone leaves classes smiling.
I have previous martial arts experience. Do you cater for advanced students?
We have a well-established syllabus for complete beginners through to highly advanced students. Our teachers have extensive martial arts knowledge and experience and will help you progress and excel in our academy.
I want to learn how to spar and become effective in street self-defence. Do you cater for people in my situation?
Tugra Shan Martial Arts Academy cater for all types of self-defence. We have sparring and BJJ rolling for those who want to test themselves, but we also cater for those people who may want a softer side of training.
I just want to learn self-defence and don't want to fight and spar hard. Do you cater for people like myself?
Yes, we are happy to modify our teaching to suit your specific requirements.
Do you cater for families wishing to train together?
Yes, we are a family friendly martial arts academy and offer generous discounts for families.
How long will it take to learn how to defend myself?
We start teaching you self-defence from day one. But like any worthwhile endeavour, it takes time to become proficient and requires commitment and regular training. At Tugra Shan Martial Arts Academy, you'll learn to master both physical techniques and develop situational awareness, assertiveness, and decision-making skills to provide a holistic approach to personal safety.
Book a free lesson with Tugra Shan Martial Arts Academy in Morphett Vale and Reynella East. It's the fastest way to learn how to defend yourself.
Adults Martial Arts Testimonials
Kancho John Alford has been teaching martial arts since 1998 and Tugra Shan Martial Arts Academy is the best martial arts academy I've ever trained in.
Kancho John is inspirational, passionate and dedicated to bringing out the best in his students.
Kancho John is an amazing teacher. His knowledge is second to none.
This academy has a family friendly atmosphere and everyone leaves classes smiling. I highly recommend Tugra Shan Martial Arts Academy to beginners and advanced students. Before studying with Tugra Shan Martial Arts Academy, I was nervous, lacked confidence and had no self-defence abilities. I was also unfit and got out of breath easily. Since studying with TSMA Academy I have gained fitness and confidence in being able to defend myself. Learning is made easy because it's broken down into small chunks. Kancho John Alford has an easy going manner and helped me relax and learn well. This truly is Adelaide's Leading martial arts academy offering an easy effective learning environment and a family atmosphere.