Kids Martial Arts Classes
Adults Martial Arts Classes
Kids Martial Arts Classes
Kids Martial Arts Training
Tugra Shan Martial Arts is a great way to learn a variety of self-defence techniques that enable children to learn how to protect and defend themselves in a variety of realistic and real-life situations. 
Our kids' martial arts classes have been designed to be fun, safe and varied and include various self-defence techniques including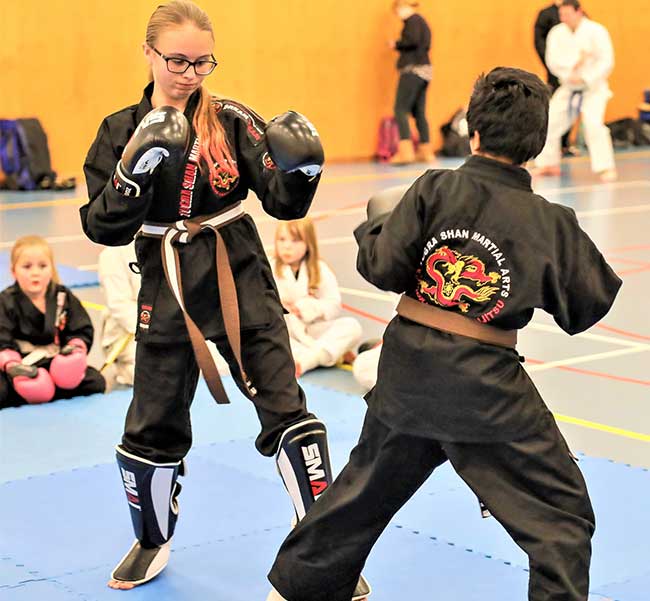 Kids Martial Arts in Morphett Vale & Reynella
We offer three kid's martial arts classes per week (term times only) and teach children from 4 years of age upwards.  Our experienced tutors have been teaching kids martial arts for over 20 years and our classes are suitable for beginners, intermediate and advanced students.
Reynella East College Primary gym
Gate 3 Car Park, 63 Malbeck Dr Reynella East
Antonio Catholic School gym
Entry via the Rear car Park at 25 Stanley St Morphett Vale
Flaxmill Primary gym
80 Flaxmill Rd Morphett Vale
Beginners Martial Arts For Kids
We run a special beginner's martial arts class on a Wednesday at 4.15pm.  This class solely focuses on teaching beginners at white to yellow belt level.  Beginners are welcome at all classes but many students who are new to martial arts prefer to attend this class whilst building their skills and then progress to additional training when they feel confident in the basics.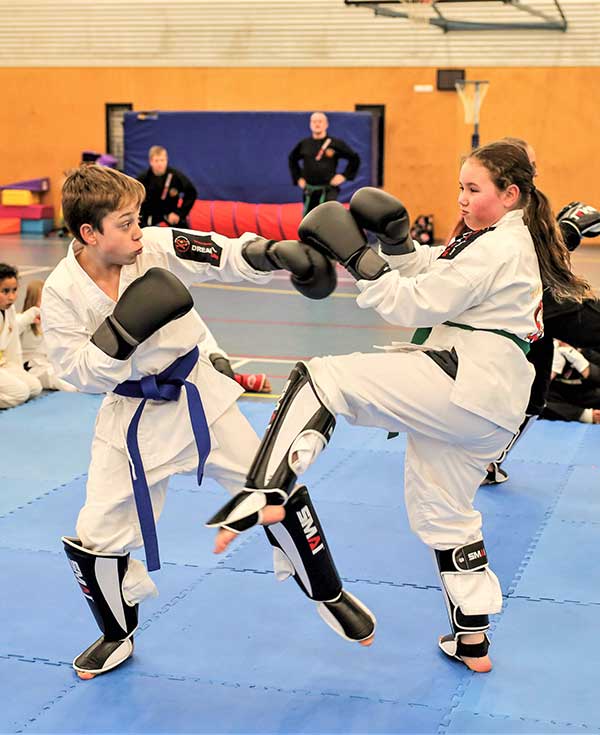 Kids Karate
A typical class starts with a warmup and stretches followed by some karate.  You'll learn a variety of punching, kicking and self-defence techniques which have been organised into a kata.  A kata is a combination of self-defence moves put together into a sequence to make them easy to learn.  Each different coloured belt will learn a different kata and this series of moves will be practised and form part of the grading.
Kids Kickboxing
Sparring is a crucial part of learning self-defence as this allows participants to learn, apply and refine self-defence techniques in a one on one or group setting.  Kickboxing is an excellent way to gain reality-based fighting experience in a controlled and safe setting.   We wear boxing gloves/soft mitts and padded shin protectors for maximum safety and only use light contact. 
Kids Self-defence and Jujitsu
After a few rounds of kickboxing, we then move to the mat for self-defence and Jujitsu.  Here we cover a range of different attacks and defensive combinations.  Children are taught an array of different throws, blocks, break falls (safe ways to fall), joint and wrist locks and other self-defence methods aimed at protecting themselves and neutralising the threat from one or multiple attackers.  
All-Inclusive Kids Martial Arts Classes
Our kids' martial arts classes are all-inclusive, so we take children of all ages, backgrounds and abilities.  Our tutors will work with each child so they can learn at their own pace and feel confident and in control.  Learning martial arts is more than self-defence, our classes help build confidence, self-control, respect, discipline and resilience which are great all-round life skills.
Martial Arts Adults Classes
Adults Mixed Martial Arts Training
Our adult martial arts classes are suitable for all levels aged 14 and upwards.  Adult classes contain a wide variety of martial arts.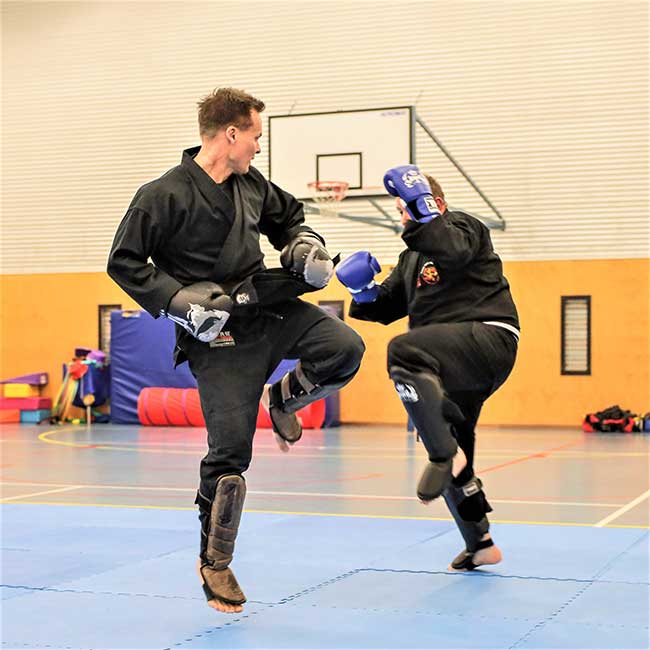 Classes are dynamic, exciting and fun.  Rather than run separate classes for each discipline, all classes contain a mixture of martial arts including kickboxing sparring techniques, karate techniques and katas, self-defence and Jujitsu.  Brazilian Jiu-Jitsu is taught as a separate class on a Wednesday.  Stick fighting and Japanese swordsmanship weapons classes are voluntary and included in classes during the last week of each month.
Unlimited Martial Arts Training
We like to make martial arts accessible and affordable for all, so your monthly fees include unlimited access to all adult classes.  You can train at your own pace and attend as many classes as needed to reach your goals.

Adult Martial Arts Classes, Morphett Vale & Reynella
Monday
6.30 – 7.30 pm (Term Time)
Reynella East College Primary gym
Gate 3 Car Park, 63 Malbeck Dr Reynella East
Wednesday
6.00pm – 7pm – year round
Brazilian Jiu-Jitsu – 7.00pm – 8 (year-round)
Antonio Catholic School gym
Entry via the Rear car Park at 25 Stanley St Morphett Vale
Thursday
6.30 pm – 7:30pm (Term Time)
Brazilian Jiu-Jitsu 7:30pm – 8pm (Term Time)
Flaxmill Primary gym
80 Flaxmill Rd Morphett Vale
Adult Mixed Martial Art Classes – What to Expect
Karate
Classes start with a warmup and some stretching before moving into Tugra Shan Karate  techniques. You'll learn numerous kicks, punches, blocks and parries along with dynamic katas.
Kickboxing
Karate is followed by Kickboxing. You'll learn all the basics including kickboxing combinations, controlled partner drills and then move on to freestyle sparring.  Participants can select either low, middle of full contact sparring depending on their experience and goals.
Jujitsu & Self-Defence
Once the kick boxing is complete we then move to the mats for Jujitsu and self-defence. Students will learn various takedowns, throws, joint locks and manipulation, escape moves, submission and finishing techniques.
Brazilian Jiu- Jitsu
Brazilian Jiu-Jitsu is taught in a separate class on a Wednesday night.  Training is conducted by Professor Marcio Maia who studied in Brazil.   You'll learn positioning techniques, closed and open guards, escapes, takedowns, throws and submissions and rolling (sparring).
Martial Arts Weapons Classes (Adults only)
Fighting with weapons is a specialist part of our martial arts classes.  Weapons classes are incorporated into Wednesday and Thursday classes during the last week of the month only.  Weapons training is voluntary and covers both eskirma stick fighting and Japanese swordsmanship. All equipment needed is provided by the club.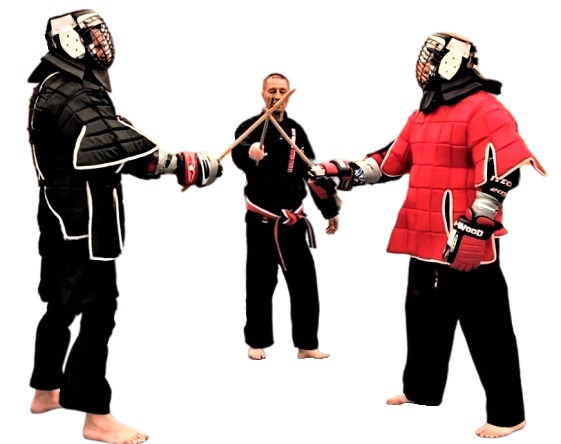 Eskrima Stick Fighting
Eskrima Stick Fighting is a form of armed combat similar to sword fighting which uses traditional 28" (71cm) blunt ended eskrima sticks.  We teach a mixture of mid and close-quarter fighting techniques and classes focus on drills, katas and disarms.  Stick fighting is dynamic and exciting and there are plenty of opportunities to practise armoured sparring throughout the year.
Iaijutsu Sword fighting
Iaijutsu Sword fighting is a combative quick draw sword technique.  We teach footwork and stances, cutting and blocking techniques and sparring using either wooden (bokken) or steel swords (katana).  Katana can be blunt (liato) or sharp (shinken) depending on experience.  Classes focus on katas, kumitachi (partnered techniques) along with safety and sword handling techniques.
Martial Arts Uniforms
& Equipment
A stylish black uniform is included as part of your initial membership fee.  After this you will need either soft mitts or boxing gloves along with shin guards or shin instep protectors and a mouthguard to participate in kickboxing sparring sessions.  We sell all this equipment along with uniforms, belts, eskrima sticks, bokken and saya (wooden sword and sheath) at heavily discounted prices for club members.
Martial Arts Training Tailored To Your Needs
We pride ourselves on helping you achieve your goals and at TSMA (Tugra Shan Martial Arts) you can train at the level you feel comfortable.  Our programs encourage students to build strength and confidence along with physical, mental and psychological fitness.  From basic self-defence to high-level advanced techniques, we cater for all students of all abilities.
Female Friendly Martial Arts
We cater equally for males and females and ensure that all new students are welcomed into our martial arts family.  We go out of our way to ensure all new students feel at ease and welcome people of all different backgrounds and abilities.
Private Tutoring – Martial Arts –  Kids and adults? 
We support all our students in achieving their goals and offer highly competitive prices on private martial arts training.  You do not need to attend our regular classes to access private tutoring.  Many students take advantage of our low-cost private tuition to refine their skills before a grading, to progress faster or to help them reach their martial arts goals quicker. 
Beyond Martial Arts
We have a diverse range of members across all age groups with our youngest 4 years old to our oldest member being 71.  We encourage respect and camaraderie and have regular club 'dinners' to help build a supportive and inclusive martial arts academy.
Many members form lifelong friendships and find that their martial arts practice has positive impacts on all areas of their life including
Reduction in stress and anxiety
Healthy mind, body and spirit
Improved fitness, flexibility and co-ordination
Increased confidence and self-control